Financial Progress Notes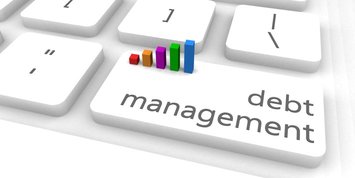 Physicians are  viewed with a great deal of respect. It requires a high level of intelligence, capacity, and work ethic. It also demands a deep pocket book.  Since that last item is not as common for medical students, the real requirement is the ability to withstand and negotiate massive amounts of debt.  In fact, according to the Association of American Medical Colleges, or AAMC, the medical school graduate class of  2017 left with a median level of debt of $192,000 in student loans.1 
These numbers are staggering on their own.  What may be more interesting is how long this debt goes on.  Medscape's Physician Wealth and Debt Report 2017, notes in their survey that about 67% of doctors between the ages of 28 and 34 are still paying it off, and that about 45% of physicians between 40-44 still have debt. Approximately 26% are still paying these loans down into their late forties.2  When you are paying over the long term, the total amounts paid can be over $400,000. The effect on financial planning is significant, so being aware of available avenues to manage this debt is crucial.
It is important to note that each physician's debt situation will be unique. One doctor's strategy may not be a good fit for another. It will be  imperative to consider where you are at in your career. 
One suggestion to consider for the new graduate is to pay something immediately to their loans. It doesn't matter how small a payment this may be. Many graduates may just put their loans on hiatus while they complete their residency.  However, even though you may be allowed to delay payments, the accruing interest payments can add thousands more to your original amount.  There are mathematical strategies that we will discuss at another time that can save thousands in interest, and greatly reduce the loan term. First, let us review some of the other payment options available to manage debt.
Look Into Negotiating a Physician Signing Bonus
This could be an option for those doctors who wish to be part of a practice or who are looking to join a hospital vs. setting up their own office.  If there is an opportunity for a true bonus, and not an advance of salary or a loan, this could go a long way to reducing the medical school debt. A lump sum payment could be instrumental in reducing a portion of interest.
It will be important to review your contract carefully and verify the requirements of the signing bonus.  It may include the need to remain with the practice for a minimum period of  time.
Consider Refinancing Medical School Loans
One of the options to lower the amount of interest one is paying is to refinance a loan with a private lender. If there is enough of a  spread in rates, this could result in thousands in savings over the length of a loan.  The arrangement and terms would be completely different, and would need to be reviewed.
This strategy might be a consideration for more established physicians that want to accelerate their payoff.  However, there could be some notable drawbacks. You would lose key federal loan benefits; such as public service loan forgiveness, and the cancellation of debt under certain provisions.
Participate in an Income-Driven Repayment Plan
If you are at the beginning years of residency, and income is tight, you might consider changing over to an Income-Driven repayment, or IDR. The goal is to make payments more affordable with a smaller income. Monthly payments are adjusted to follow your income and the cost of living. If one had loans in the $192,000 range mentioned earlier, their monthly payments under a 10 year standard repayment plan could be over $2,200. One of the options is to make payments under the Pay As You Earn, or PAYE plan.  If a resident had discretionary income of $3,000-$3,500 per month, their initial payments could be in the $300-350 range per month. Payments are modified with changes in income.
In the chart below you can see the various income-driven plans and parameters that are available in the Federal Loan Repayment plans.
Federal Loan Repayment Plans
These are the eight major repayment plans for federal student loans, including who can participate, how long you'll be paying off your debt, and whether you can qualify for special federal benefits within a certain plan.
| Plan type | Who qualifies? | Years to repay | Monthly payment | Public Service Loan Forgiveness after 10 years? | Outstanding debt cancelled at the end of repayment? |
| --- | --- | --- | --- | --- | --- |
| Standard | All | 10 | Same throughout repayment. | No4 | No5 |
| Graduated | All | 10 | Increases every 2 years. | No | No |
| Extended | Direct1 and FFEL2 loans from after Oct. 7, 1998, greater than $30,000 balance. | 25 | 10% or 15% of discretionary income. Changes with income. | No | No |
| Income-Based Repayment | All who have a partial financial hardship.3 | 20 or 25 | 10% or 15% of discretionary income. Changes with income. Will never be more than under Standard plan. | Yes | Yes |
| Pay As You Earn | Direct loans from after Oct. 1, 2007. Must have a partial financial hardship. | 20 | 10% of discretionary income. Changes with income. Will never be more than under Standard plan. | Yes | Yes |
| Revised Pay As You Earn | All Direct loans. | 20 or 25 | 10% of discretionary income. Changes with income. | Yes | Yes |
| Income-Contingent Repayment | All Direct loans. | 25 | The lesser of 20% of discretionary income or what you'd pay on a 12-year fixed payment plan. Changes with income. | Yes | Yes |
| Income-Sensitive Repayment | FFEL program loans. | 10 | Based on annual income. Each lender's formula for determining amount varies. | No | No |
NOTES and DEFINITIONS: 1. All loans made after July 2010 are Direct loans, meaning they come directly from U.S. Department of Education. 2. FFEL, or Federal Family Education Loans, were private loans guaranteed by the federal government. The program was eliminated in 2010. If you have an FFEL loan, you can consolidate it under the Direct Loan program and then have access to Direct loan-only repayment plans. 3. A partial financial hardship means that your standard loan payments exceed 10% of your discretionary income based on your family size and how much you earn. 4. Technically eligible for Public Service Loan Forgiveness but you'll pay everything within 10 years so there won't be a balance to forgive. 5. But you'll pay less interest under this plan than any other.
http://time.com/money/collection-post/4173592/federal-student-loan-repayment-options-chart/
Student Loan Forgiveness Programs for Doctors
There are also a number of other student loan forgiveness programs for doctors, that could be just what the doctor ordered.
There may be a nonprofit hospital, or perhaps a program that needs doctors desperately, that may offer loan forgiveness for their doctors. One should expect  tradeoffs in the selection of the location, the preferred specialty, the level of pay, and the choice of employer.
Public Student Loan Forgiveness for Doctors
The Public Student Loan Forgiveness Program or PSLF are for doctors  whose work qualifies as a "public service."  This is primarily determined by the employer.  These are usually 501(c)(3) non-profits or public institutions (which may include hospitals).
This segment also includes work in areas that are underserved or where there is a great need for medical professionals. The borrowers will have to make payments to their loans for 10 years while they are doing the qualifying work. The federal government then forgives the remaining debt.
There are a number of other loan repayment assistance programs from the branches of the military for those students who are members of the service. However, even graduated and practicing physicians can enroll in military service and receive student loan benefits. These program participants include the Army, Navy, and Air Force. The program formats may be loan repayments programs or financial assistance.  The Army also has a Special Pay programs offering up to  $75,000 ($25,000 max over 3 years) for both active duty physicians and members of the Army Reserve who have a completed residency in a qualifying specialty.  The Navy also has a robust physician sign-on bonus for practicing physicians.
Where There is a Will, There is a  Way
The path to being a physician is a demanding, rewarding, and expensive one. As you can see, there are multiple approaches in reaching the destination and about as many choices in paying for it.  In a future episode, we will look at specific methods of actually paying down the debt.
1 2018 Education Debt Manager For Graduating Medical School Students. Association of American Medical Colleges. p. 3. Published January 2018. www.aamc.org/FIRST
2 Carol Peckham, Physician Wealth and Debt Report  2017. Medscape, May 4, 2017, p. 12.